In 2002, Lesley Leamy was a successful sales associate and store manager of a popular and high-end women's clothing retainer in her local Texas mall. She was in her young twenties at the time, earning six-figures and living the dream.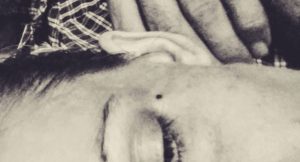 While working on a store display, Lesley was near the top of a 15-foot ladder when she fainted. She plummeted head first and hit the hard marble floor below. When she struck the ground, she fractured her skull, started convulsing and ultimately became unresponsive. She stopped breathing on the way to the hospital and began turning grey. Lesley awakened many hours later to the "beep, beep, beep" sound of her heart monitor in the emergency room. Her store manager was sitting beside her and explained what had happened, which was verified by the various video cameras throughout the retail establishment.
An MRI confirmed that Lesley had permanent damage within her white matter, which is found in the deeper or subcortical tissues of the brain. White matter is best described as the subway of the brain, connecting different regions of grey matter to one another. Loss of this white matter is known to affect memory, focus, and problem-solving and can play an important role in mood, walking, and balance.
Lesley's employer placed her on short-term disability and then promptly asked her to come back to work the next day, which was not an option given her recent injury. Lesley was eventually let go from the company shortly before they filed for bankruptcy, likely to avoid having to deal with a lengthy and expensive court case. They even erased the videotapes that documented her fall.
Despite the severity of her injury, Lesley was released from the hospital the same day as her fall and without a mention of help for rehabilitation. With a massive amount of pain in her head and diminished abilities, she was sent home to deal with her recovery on her own. Lesley had to teach herself how to balance and put one foot in front of the other in order to walk and climb stairs, as well as read beyond the level of a third-grader. It took time and determination, but she was eventually able to regain much of her physical and mental abilities. However, her brain injury had triggered other issues.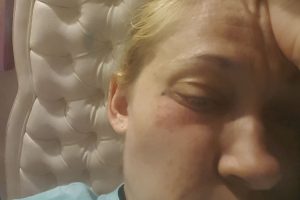 Prone to seizures, Lesley was referred to a specialized neurologist who presented a diagnosis of drug-resistant epilepsy. The doctor offered a prescription for 400 milligrams of medication that should have been 40 milligrams. The high dosage damaged Lesley's kidneys and made having regular dialysis a distinct possibility. Lesley later discovered that the pharmaceutical company was paying kickbacks to various doctors, including hers, to push the drug despite potential side effects and long-term damage. A whistleblower came forward in 2010 and disclosed that the company was fully aware of the detrimental effects of its drug. A billion-dollar lawsuit against the drug company paid out to the FDA, while none of the affected patients were notified nor received any compensation.
Becoming a Warrior Survivor
Today, Lesley is staying with her parents after depleting her savings and selling everything she owned in order to survive. To make matters worse, she has been denied government assistance a total of nine times in the 15 years since her injury. Because of her recurrent seizures, Lesley cannot drive, and her various medications leave her lost in forgetfulness, so holding down a job is difficult. She also lives with the long-term effects of prescription drugs that have left her with diabetes, end-stage renal failure and the inability to have children.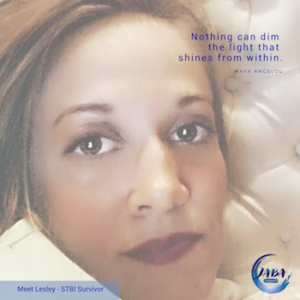 Despite the terrible hand, she was dealt, through it all Lesley has learned to laugh and carry on with a positive attitude. While she strives to regain her health, she remains dedicated to advocating for epilepsy awareness.
---
Throughout the months of March & April 2018, any donations to Just A Breath Away will benefit Lesley Leamy, our first Paintings of Promise survivor. With donations starting at only $25, won't you make a difference in the life of this survivor warrior? Donate now.
Wiped Out, the original oil on canvas painting featured here was hand-chosen by artist and JABA Founder Kathleen Newhouse to represent Lesley and our first Paintings of Promise campaign. Click here to see the full painting or to purchase the original.