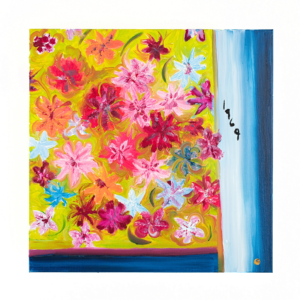 Starry, starry night of blue and gray. Flaming flowers, stars ablaze. Faces lined in pain. Suffered with your sanity. They could not love you. No hope, as no one understood. This world was not meant for you. Nameless walls. Strangers you have met. What I tried to say through my insanity. They never listen.
Strangers I have met, no faces, blank stare. Round, round, down, down. The tin man spinning round, round, down, down. Catch me, catch me falling, falling, tropic of sir Galahad.
Soul lost. Power of love. Saved. Power of gold. Free, tell me you are.
Spread my wings. Nobody's gonna stop me now. Not a word, a secret unfolds again, for the first time. Experience it again.
Blue jean baby married a music man. Dancing in the sand, ballerina baby. She just laughs. Happy baby hums a tune.
"1969" original oil painting by Kathleen Newhouse is available for purchase as an online donation through our Paintings of Promise program. If you would like to request more information on how this original or a print version can be yours, click here.